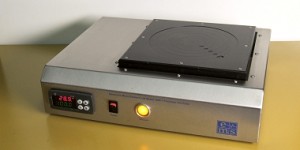 The EMS Precision Electronic Hot Plate Model 1000-1 provides an extremely accurate means of providing even temperatures across a surface.  This compact unit provides the sophisticated control options required by the most demanding of applications, yet it is simple to use, visually appealing and competitively priced.
Features:

Temperatures from 50°C to 150°C
Accurate to ±1% across working surface
Vacuum ports ensure intimate contact between substrate and hoteplate
Substrate size from 10 mm to 150 mm
PID Temperature Controller with digital readout
User settable power limit
Autotune of PID values makes unit simple to use
High visability 4 digit LED display shows temperature in °C or °F.

Applications:

Curing of Photo Resist
Curing of Epoxy
Any work requiring a precise temperature

Requirements:

Power 110V or 240V at 2 amps
Vacuum >> 15″
Dimensions: 250 x 250 x100mm
Click here for the Data Sheet (1601KB).         Click here for the User Manual (2013KB).
You will need the Adobe Acrobat Reader to view and print these documents.
If you don't have it click on the button below to download a free copy.