Electronic Micro Systems offers competitive machining, and injection moulding services to the highest standards, from drawings supplied by you, the customer.  Our workshop is comprehensively equipped for one off, small batch prototype and production work.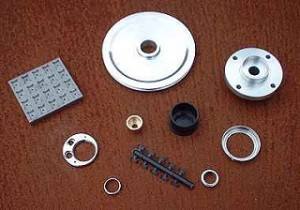 By optimising the use of our programmable CNC tools and our manual equipment, we successfully produce highly accurate contract work, with excellent finish, at reduced cost to our clients.
Our reputation relies on a constant investment in new technology together with our highly skilled and experienced craftsmen.
Our workshop is effectively equipped for turning, milling and grinding.   We also make extensive use of inspection equipment because we are aware that the goodwill of a client can be lost if 1 part in 100 is poor.
Milling
Our milling capabilities centre around three CNC milling machines, Kitamura Minisuper 300, Kunzman Universal and Maho CNC 600E universal mill which produces extremely complex work to ± 5 microns.  With a large working area, fast set-up and high operating speed, production of individual or multiple parts is swift and reliable.  The CNC's are complemented by two modern Bridgeport 2JBs and an Aciear mill, all with digital readouts, which gives Electronic Micro Systems extreme flexibility in production.
Turning
Our turning capabilities consist of two CNC lathes, a Boxford ALC with a 300mm swing and a Yama Zaki Microsprint 15 with 350mm swing which provides Electronic Micro Systems Ltd with CNC repeatability, speed and accuracy for turning large or small components.
Our CNC lathes are supplemented by Harrison M250, M300, M400 all of which have a digital readout.
Grinding
We have a Jones & Shipman Model 540 tool room surface grinder with a working area of 450 × 150mm with Optidress.
Injection Moulding
We have a small injection moulding facility which comprises of two S.M.T. injection moulding machines and a Boy 15 S injection moulding machine.  These machines are capable of producing R&D components with a maximum shot size of 1½ oz.
Inspection
We at Electronic Micro Systems Limited make extensive use of inspection equipment and included in our inspection equipment we have a Micro Vertex computerised height gauge which is able to measure bores, shafts and hole centres to a resolution of 0.001mm.
We also have a Isoma non-contact optical measuring system which measures to a resolution of 0.001mm.